June 20th, 2022 - New York City - D'Angelico guitars introduces the all-new Excel DC XT and Excel SS XT, top-selling models now available with new vintage-inspired details and high-end upgrades. Featuring stunning quilted maple tops in classic colors, a Throwback Scroll-Style headstock, and an array of elegant details, the all-new Excel SS XT and Excel DC XT join the popular Excel Series this summer, making their debut at Sweetwater's Gearfest.


Both models feature the richly bound Throwback Scroll-Style headstock and a decadent laminated quilted maple top in two classic colors: Vintage Natural and Iced Tea Burst. They each have a comfortable slim C-shape neck profile, Seymour Duncan 59 humbuckers, premium Jescar 47104 fretwire, vintage-inspired Grover Imperial Tuners, and a rosewood fingerboard.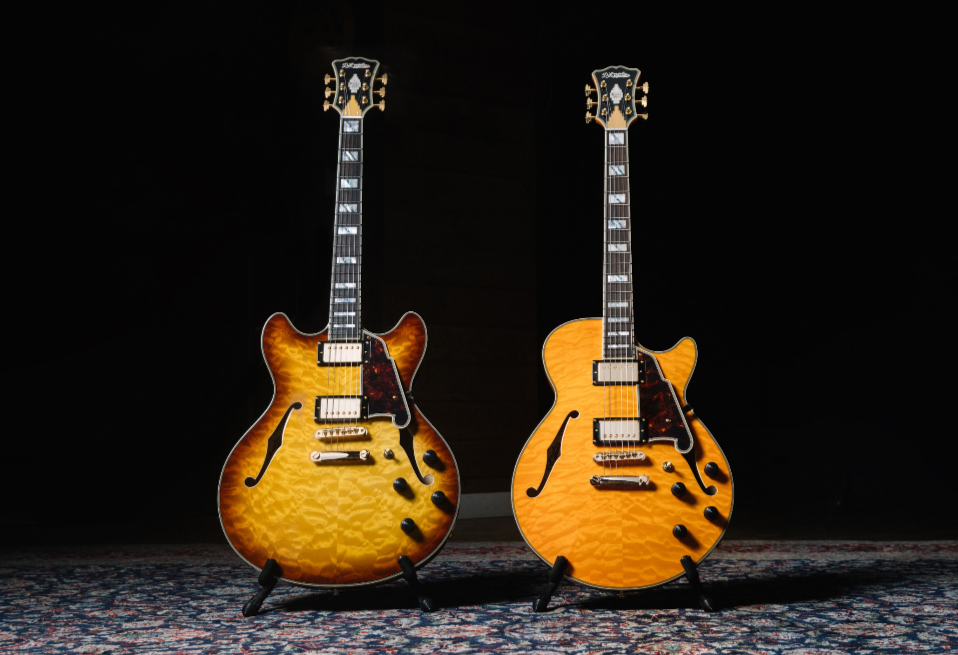 The Excel DC XT is a 16-inch-wide double-cutaway with remarkable tonal range from vintage-voiced warmth to glassy high-end, while its centerblock easily fights off feedback at high volumes. Its single-cutaway counterpart, the Excel SS XT is only 15 inches wide and is designed to offer jazzy warmth yet remarkable genre versatility, depending on rig pairing.
Watch the demos here:
Excel SS XT US $2,099.99 MAP
Excel DC XT US $1,999.99 MAP
Prefer the classics? D'Angelico Guitars has also added new color options to their Excel Series favorites. The standard Excel DC, SS, and 59 welcome back Trans Cherry and Solid Black.
See all new models here: https://dangelicoguitars.com/guitars/excel-series/