One of the top modern prog bands, Haken, will be launching a North American tour in support of their latest album, 'Fauna' (their seventh studio effort overall) – running from May 3-June 3, 2023.
Comprised of Ross Jennings, Richard Henshall, Charlie Griffiths, Pete Jones, Conner Green, and Ray Hearne, Haken's latest sees the band exploring new ideas conceptually – which will undoubtedly be expanded upon when the band hits the stage on these upcoming dates.
Tickets can be purchased via the following link (as well as VIP/meet & greet options): HAKEN - Tour Dates (hakenmusic.com)
Says the band in a statement: "We are pumped to be returning to North America with our 'Fauna' expedition - we have a real treat planned with this set and can't wait to share it with everyone, and to meet our amazing fans at VIP events! After a great first tour back in North America last year, we're really excited to be coming out again with a brand new and longer setlist. There will be some fan favorites and some new ones in there, so come check it out."
The new album has been accompanied with the single "The Alphabet of Me," the second track taken from the record.
Watch the video for "The Alphabet of Me," directed by Crystal Spotlight, here
Haken - The Alphabet of Me (Official Video) - YouTube
'Fauna' is available in several formats, including Ltd 2CD (incl. instrumentals), Standard CD, Gatefold 2LP & as Digital Album.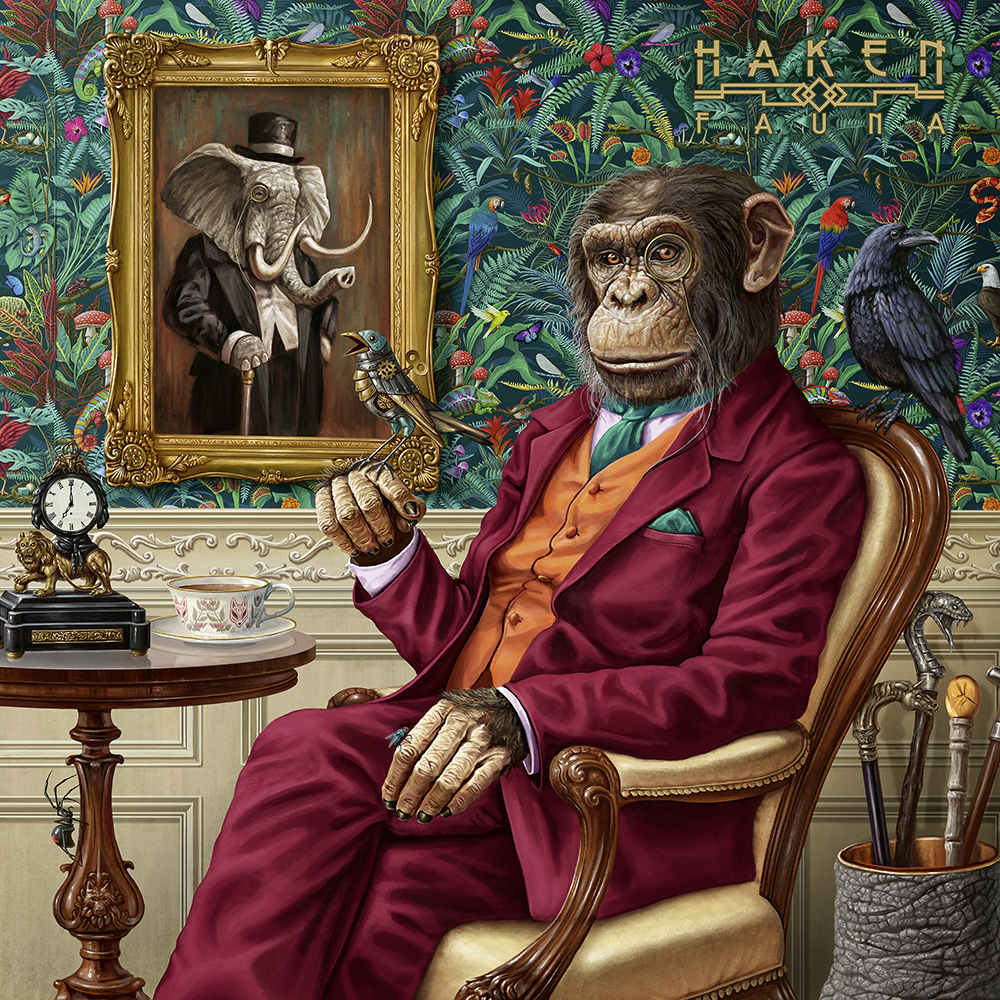 The album's stunningly detailed artwork was created by Dan Goldsworthy (Charlie Griffiths, Sylosis), and can be ordered or streamed here: Fauna (lnk.to)
Understandably, the band is quite looking forward to playing for (and meeting) their North American fans once again. "This will be our first full tour in promotion of our new album 'Fauna,' so we're super excited to be playing some new songs from this that we haven't played before. But with it also being the 10-year anniversary of 'The Mountain,' we've dug into the back catalogue to create a really exciting set for everyone."
Confirmed Tour Dates:
Wed, May 3 - Nashville - Exit/In
Thu, May 4 - Cleveland - House of Blues
Fri, May 5 - Toronto - Opera House
Sat, May 6 - Montreal - Corona Theater
Sun, May 7 - Quebec City - Imperial Bell
Tue, May 9 - Boston - Paradise
Wed, May 10 - Philadelphia - TLA
Thu, May 11 - NYC - Le Poisson Rouge
Fri, May 12 - DC - The Black Cat
Sat, May 13 - Charlotte - Underground
Mon, May 15 - Fort Lauderdale - Culture Room
Tue, May 16 - Orlando - The Beacham
Wed, May 17 - Atlanta - Terminal West
Fri, May 19 - Dallas - Granada Theater
Sat, May 20 - Austin - Come and Take it Live
Sun, May 21 - El Paso - Lowbrow Palace
Mon, May 22 - Phoenix - The Nile
Tue, May 23 - San Diego - Brick by Brick
Wed, May 24 - LA - Regent Theater
Thu, May 25 - San Francisco - August Hall
Fri, May 26 - Portland - Hawthorne Theater
Sat, May 27 - Seattle - Neptune Theater
Sun, May 28 - Vancouver - Rickshaw Theater
Tue, May 30 - SLC - Commonwealth Room
Wed, May 31 - Denver - Gothic Theater
Thu, June 1 - Lawrence - Granada Theater
Fri, June 2 - Minneapolis - Fine Line
Sat, June 3 - Chicago - Concord Music Hall
FOR MORE INFORMATION, VISIT:
HAKEN - NEW ALBUM 'FAUNA' OUT NOW (hakenmusic.com)
(19) Haken (@Haken_Official) / Twitter
(4) HAKEN | Facebook
H A K E N (@haken_official) • Instagram photos and videos